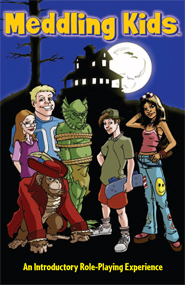 Meddling Kids Role-Playing Game:
Not Just For Kids, But For The Whole Family!
Pandahead Productions is pleased to announce that the RPG for kids, Meddling Kids, is still a part
of our team! Originally released back in 2004, Meddling Kids is a pen and paper role-playing game
written especially for those who are young (and young at heart). Become a teen sleuth with your
friends and solve the mysteries around town with your anthropomorphic friend!
You can get your own copy in pdf format from
RPGNow/DriveThruRPG and from Kindle.
Pandahead Productions still has printed copies of Meddling Kids available
for purchase. Contact Brett Brooks or the author, Allyson Brooks, for details.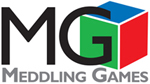 Xcrawl: Adventures in the
Xtreme Dungeon Crawl League
Think dungeon crawling is just the same old 10'x 10' room with an orc guarding a chest? Think again! Xcrawl is the hardcore game of extreme dungeon crawling with fame, pay-per-view rights and endorsements in a fabulous studio dungeon headed up by an attention-seeking Dungeon Judge (or DJ). It ain't your daddy's D&D.
Pandahead is no longer able to offer the print version of Xcrawl. Fear not, though: Goodman Games offers all the Xcrawl books and adventures in PDF format. Get them here!
Brendan J. LaSalle is still a millionare; he owns a mansion and a yaht.